Nowadays in the VUCA (Volatality | Uncertainity | Complexity | Ambiguity) world, all the teams and organisations have toough targets to be met in extremely challenging situations.
The conventional way of the leader directing the team or an organisation to fulfil its mission results in the leader and very few thinking. An ideal situation would be to get everyone on board thinking and activing individually, yet in harmony, to create synergy among the team or organisation.
doHow® gets everyone thinking and offers platform for everyone to consultancoach his/her peers to togather move towards a common amazing outcome.
Typically after deciding on the common outcome, each team member ideitifies his/her goals and routines in his/her own way supported by his/her colleagues to refine them. Then the doHow® game gets everyone - everyone who is involved to achieve the amazing outcome it is, irrespective of the numbers, to think and prototype their ideas together with colleagues before starting to implement them. The effect is convinced, energised, engaged people - all people!
Thereafter the doHow® practices are used for both self and peer consultancoaching to catalyse effective execution.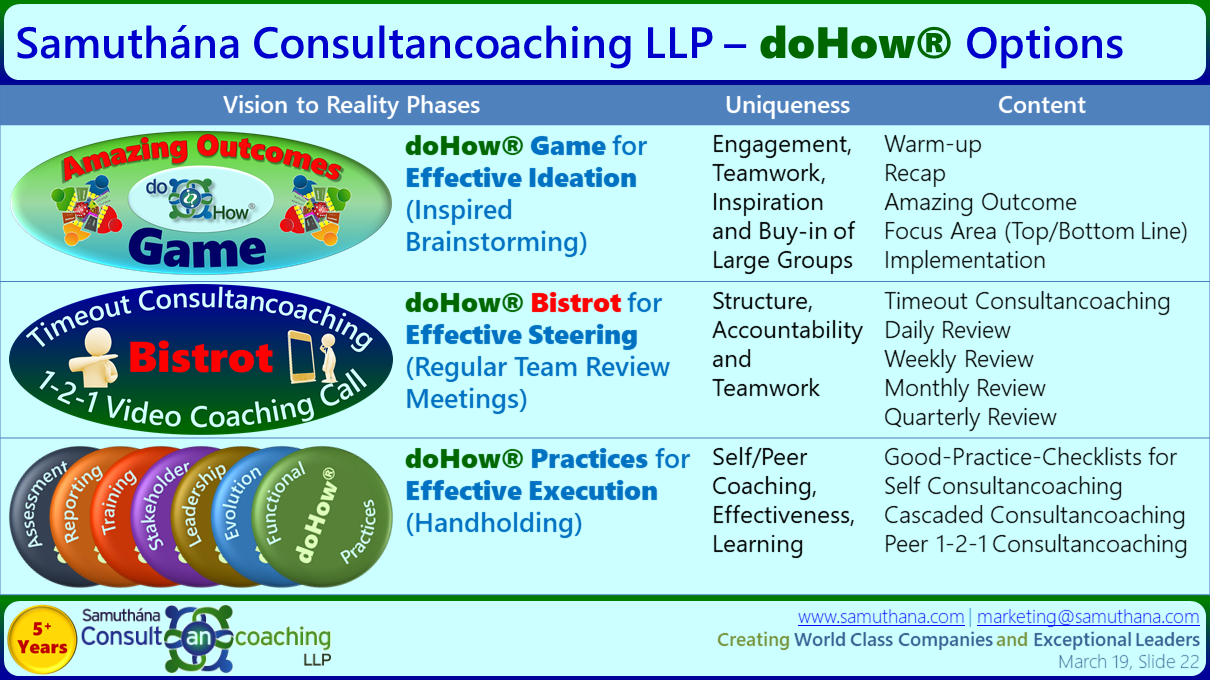 Both the doHow® games and practices can be fully customised to individual needs after, of course, assessing the team and/or organisation by a diversity of experts.
The following answers to the key questions may help you in decidng to take the next step.
1. Why is a Coach or Mentor necessary?
"Don't be afraid to give up the good to go for the great." John D Rockefeller
A Coach/Mentor
ignites everyone to improve and excel,
gets everyone to become accountable,
improves the effectiveness of everyone,
irrespective of the hierarchy
2. Why is an External Coach or Mentor better?
"We cannot solve our problems with the same thinking we used when we created them." Albert Einstein
An external Coach/Mentor
brings fresh perspective from diverse experiences for questioning status quo,
is not prejudiced by internal politics and culture for dealing critical sensitive topics,
accelerates transformation through regular reviews unperturbed with day-to-day hectic,
the key success factors for effective sustainable change
3. Why is Samuthána the best choice as an External Coach or Mentor?
"Effective leadership is putting first things first. Effective management is discipline, carrying it out." Steven R Covey
Samuthána's Consultancoaching Experts
get everyone, from Top Floor to Shop Floor, collaboratively conclude on "Putting First Things First" using the doHow® Games, developed by Samuthána,
get everyone develop the "Discipline, carrying it out" using the Good-Practice-Checklists in doHow®,
get both teams and individuals work basically on Strategies, Good-Practices and Actions, while beliefs, behaviours, motivations, emotions and culture naturally get adapted,
for consistently achieving Amazing Outcomes
The following options are available:Please visit our booking page and plan a time to your convenience for a quick training on doHow®.
doHow® Training in our office (FREE)

doHow® Training on Web (FREE)

doHow® Intro to your Core Team in your Bengaluru office (FREE)

doHow® with at least 40 participants in your premises (Call us for Price)