The large companies have a board of directors with seasoned professionals, to whom the Chief Executive Office and his/her top management team report to for advising, mentoring, inspiring, motivating, approving as well as controlling. The CEO is supported by the board for developing/refining the Company's Vision/Mission/Values and Practices from Strategy Development through Effective Execution for achieving Amazing Outcomes. Therefore, the large companies typically are system driven and consistently deliver value to all its stakeholders – the Shareholders, the Customers, the Employees, the Vendors/Suppliers/Partners, the Society/Community for Inclusive Sustainable Profitable Growth.
The micro, small and medium companies (Proprietorship and Partnership firms), on the other hand, must mostly rely on the CEO's personal network, not necessarily comprising of seasoned professionals, for consistently delivering value to all its stakeholders, while engaging consultants and coaches for specific interventions. This challenge is validated in the various assignments we have done so far where there is an absurdly huge variation in the quality of reviews, be it a daily standing review, a weekly improvement review or a monthly management review.
doHow® Timeout Consultancoaching, with the participation of an Expert from Samuthána Alliance, focusses on fostering Structure, Common Understanding of the Current Reality and Robust Strategies/Approaches for Focus Areas, Engagement, Accountability and Teamwork, based on the Good Practice Checklists in the doHow® APP. Daily Standing Review, Weekly Improvement Review, Monthly Performance Review and/or Quarterly Business Review becomes much more effective with the participation of our experts, for Effective Steering, the DNA of large companies.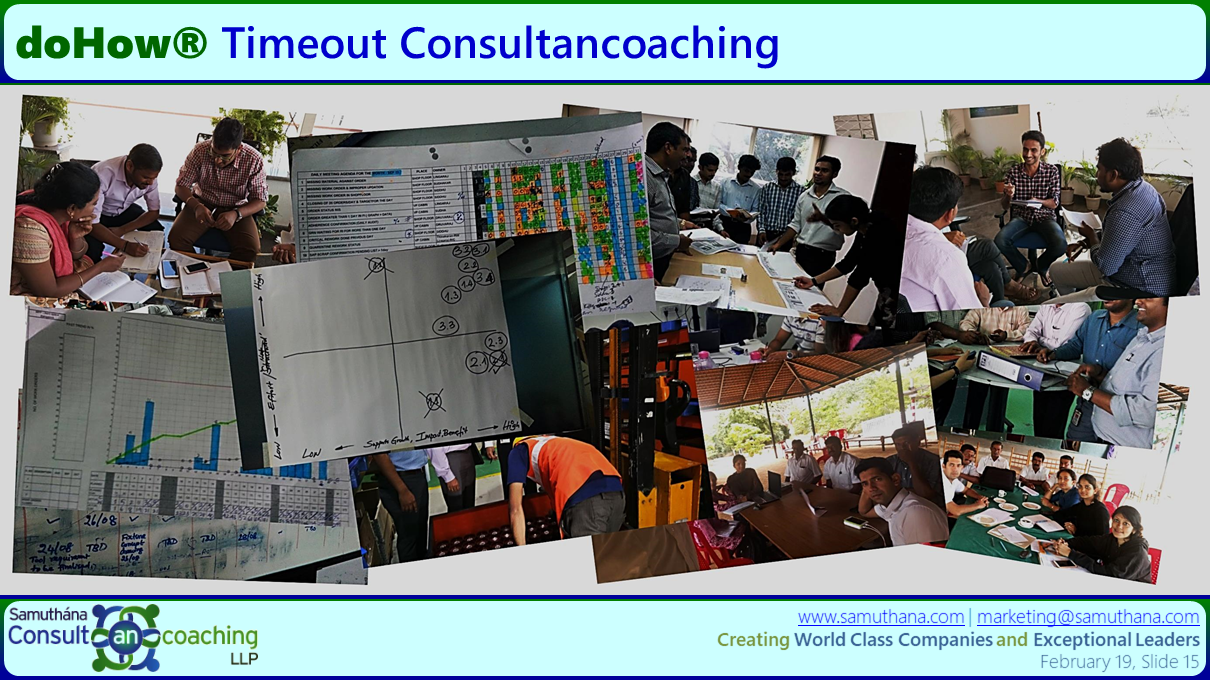 https://youtu.be/UyQvc2CBRvk
Of course, the doHow® Games and Practices, customized to the specific situation, too are used as appropriate by the experts.
Please visit our website (dohow.in) or our booking page and plan a time to your convenience for a pro bono sample doHow® Timeout Consultancoaching.